Christmas in Chile
Reading Ben's blog entry I remembered that Christmas in Chile is also quite hot as it's in the middle of summer! However, it shares many of the same Christmas customs as the USA.
People like to decorate their houses with Christmas trees (usually plastic ones) and lights. Having Christmas lights is a fairly recent development with more people being able to afford them. Nativity Scenes are also an important decoration. They have little clay figures (called 'pesebre') in them. Any other Christmas decorations are always very welcomed.
Christmas Eve is the most important day over Christmas. Families and friends gather together for a big meal in the evening, eaten about 9pm or 10pm. Many people like to have a Chilean style BBQ ('asado') or roasted chicken or turkey. The Chilean Christmas cake is called 'Pan de Pascua', which is misleading, as "Pascua" also means "Easter" in Spanish. It is quite like a Panettone or a Fruitcake but the cake is more dense, rich and moist. A popular Christmas drink is 'Cola de Mono' (or "monkey's tail") which is made from coffee, milk, liquor, cinnamon and sugar.
At midnight everyone opens their presents! Children sometimes go round each others houses with their new toys – even in the middle of the night! In Chile, Santa is usually called 'Viejito Pascuero' (Christmas old man) or sometimes 'Papa Noel' (Father Christmas). In my family usually we never followed the tradition of Santa Claus, but instead we used to make or buy something to everyone family member in the dinner, even if we were 5 years old <s Kr>. It could have been something very simple or handmade but the intention was the most important.
In my particular case, Christmas is one of my favorite holidays, as I love cooking Christmas dinner! Usually, I take the whole day off, as I have to prepare a whole course, which includes rotted chicken or turkey, potato salad, stuffing, "pan de pascua" or any other Christmas cake, dessert and so on. Even though it is a family day, I like making everyone feel it is special. Love it!
Hope all of you have a great holiday and a wonderful New Year!
Miguel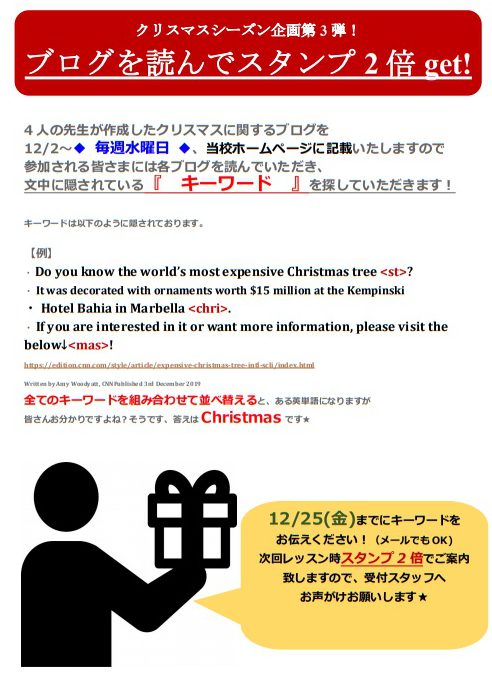 月謝制英会話ステージライン
仙台/銀座/新宿/名古屋